Digital Signage for Retirement & Long Term Care Residences
Engage, educate and inspire your residents and staff with Spectracolor's stunning, dynamic digital signage solutions
Spectracolor's dynamic, easy-to-use digital signage solutions are designed to engage, inform, and motivate your residents and staff members. Our digital displays enable you to optimize your residents' quality-of-life, while maximizing efficiency of nurses, care workers and administrators. Retirement residences, assisted living communities and long term care facilities can easily use our digital signage solutions across the entire facility such as waiting areas, hall ways, cafeterias and individual suites.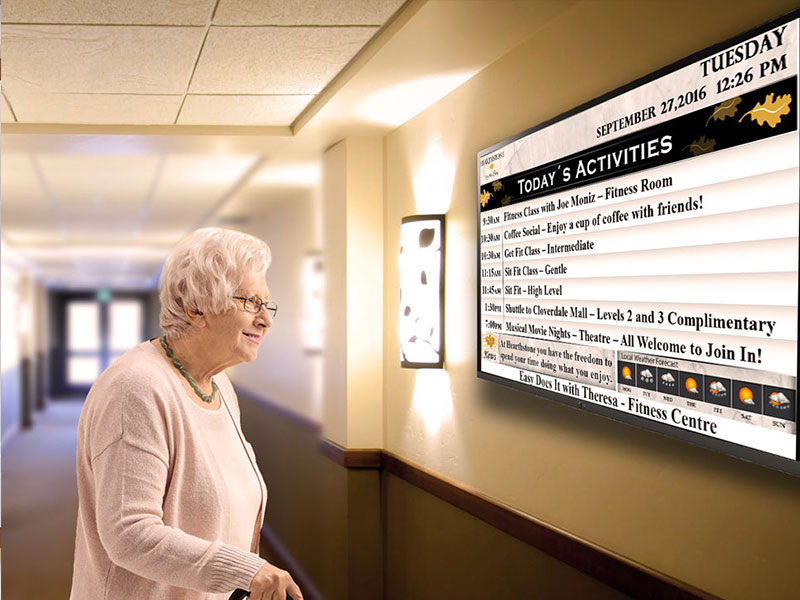 Effortlessly update daily menus within seconds. Schedule menus for future dates or for different times of the day. Display nutritional information to comply with legislation.
Inform residents, care workers and guests on daily activities. Program activities in minutes.
Welcome Residents and Commemorate Special Occasions​​
Welcome new residents and staff members, and celebrate anniversaries, birthdays or any other special occasions.
Easily create a 24/7 channel that plays relevant information and broadcast it to TVs in every resident's suite, enabling residents to stay informed and entertained right at their suite.
Run your own news channel by publishing relevant information that matters to your residents.
Promote and engage your audience with new events at the retirement residence. Program your events ahead of time and prepare relevant information, photos and videos. 
In case of an emergency, put the system in 'Emergency Mode' to display relevant information in real-time.
Patient Monitoring Display​
Improve operational efficiencies by displaying names, room numbers, rounds and pain medication schedules, fall risks, pain levels and much more.
Inform residents who are visually challenged by playing audio messages while displaying daily activities, events, etc. 
Create a soothing ambience with musical background.
Play pre-recorded messages throughout your facilities.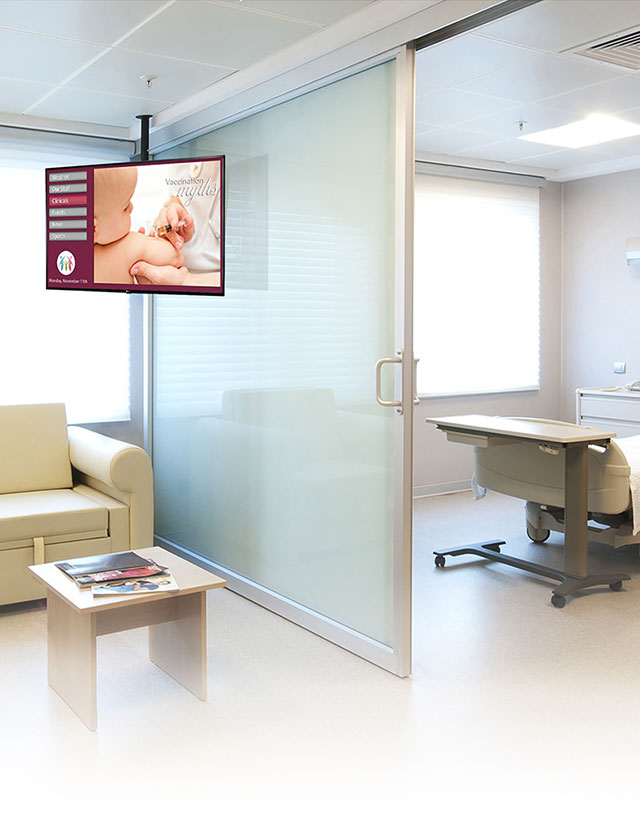 Benefits of Digital Signage Solutions
Impress prospective residents and families with visually engaging digital displays that modernize your retirement home.
Easily update daily menus, schedules, activities and other content across all digital displays throughout the senior residence.
Gain a new revenue stream by selling ad space on digital displays throughout the senior residence.
Eliminate costs required to design and print daily menus, schedules, activities and other content.
Enhance Resident Experience
Inspire residents to participate in daily activities and special events with dynamic visual content.
Enhance Staff Communication
Effectively communicate health and safety protocols, schedule and policy changes, medical information, allergy alerts and much more.